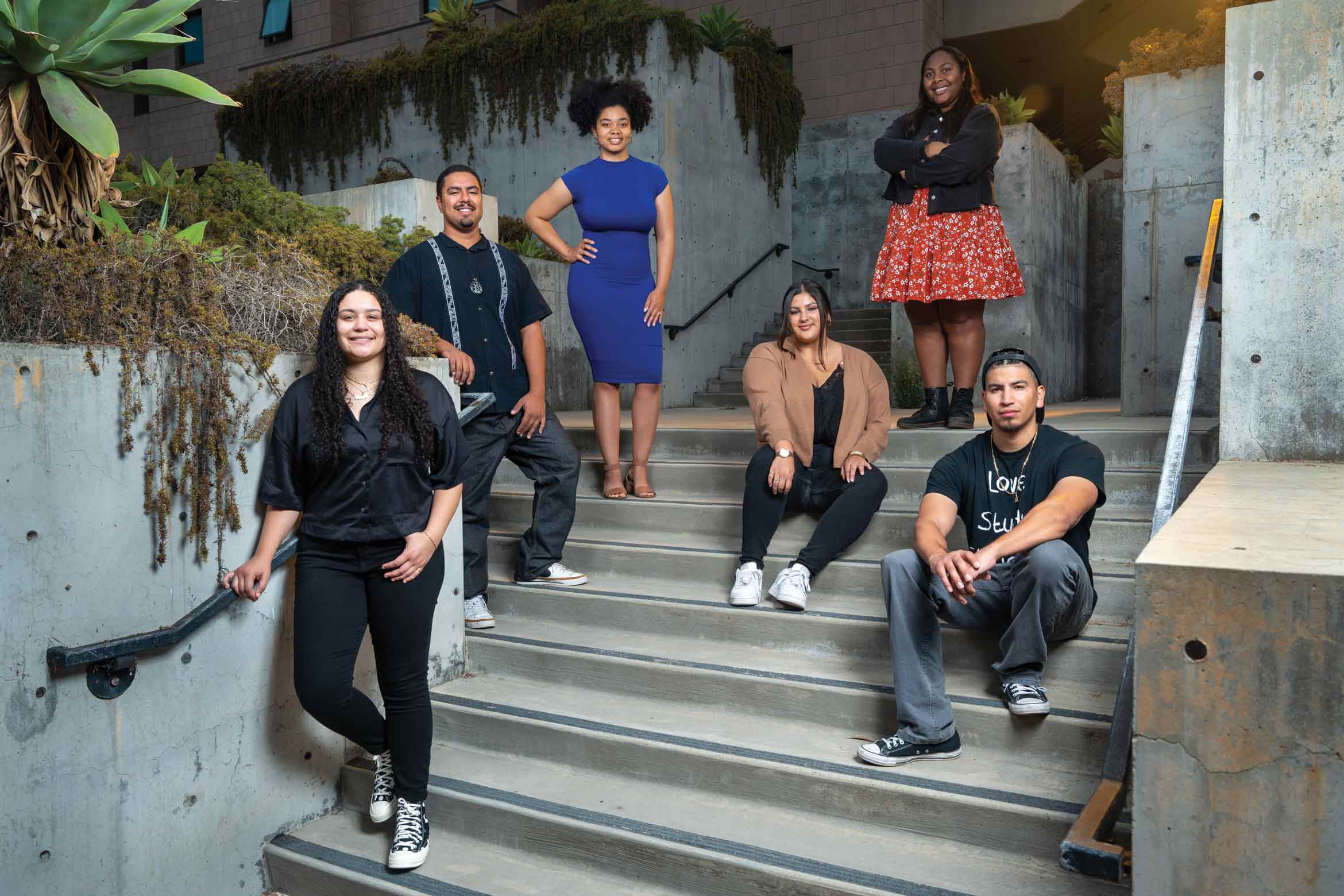 A licensed therapist with a background in clinical work, Kaela Farrise aspires to increase access to culturally responsive treatments in Black and Latinx communities. To determine how best to get it done, she's diving into research as a doctoral student in the Gevirtz Graduate School of Education.
Farrise's work and her Ph.D. — along with the research and degrees of nine other students — are being completely funded by way of the Graduate Division Racial Justice Fellowship Program.
Launched in 2021 with four students, the program now has a new cohort  six-strong. In addition to Farrise, the new fellows are Victoria Diaz (chemical engineering), Humberto Flores (sociology), Nya Hayes (classics), ​​Fabián Pavón (Chicana/o studies) and Kendall Rallins (feminist studies).
Each awardee of the competitive fellowship receives an $8,000 summer stipend for the first three years of their program, in addition to a five-year, fully funded support offer.
"This fellowship means that I have more time and freedom to focus on the reasons I decided to pursue a Ph.D. — to examine Black and Latinx mental health disparities through research," says Farrise. "It also indicated to me as a prospective student that studying issues of racial justice from a mental health perspective is meaningful to and supported by the university."
Designed to enhance the recruitment of graduate students committed to teaching, research and mentorship around racial justice, the program is a collaboration of the Graduate Division and the deans of the Bren School, the Gevirtz School and the College of Engineering as well as the divisions of humanities and fine arts, social sciences and mathematical, life and physical sciences.
"In so many different ways, these students are enhancing and conveying knowledge about racial justice and providing social support to students from underrepresented communities," says Leila Rupp, Interim Anne and Michael Towbes Graduate Dean.
Doing so is a key motivating factor for new fellow Pavón, who is seeking a Ph.D. in Chicanx studies, with his eyes on the professoriate.
Receiving this fellowship, he says, "encourages me to continue to document and research movements for racial justice in order to create a blueprint that will move us closer towards racial justice for future generations of scholar-activists to follow.
"What drives me is my community," Pavón adds. "I want my community to know that if a person who is a low-income, transfer, formerly incarcerated, first generation and Indigenous can be a Ph.D. student, so can they."