The sparks of her fighting spirit were lit in her teenage years. As a surfing phenom competing against boys — and landing atop the podium — Bianca Valenti '07 says it wasn't lost on her, even then, that boys almost always got better sponsorship deals than girls.
"I subscribed to every surf magazine, I watched all the films, and I started realizing that women and girls were not represented unless they were bikini models," she recalls now. "Women and girls didn't have the same opportunities in this sport than boys and men. Men and women were surfing different boards and different waves. And a fire started burning within me."
That fire would eventually become a full-blown blaze, as Valenti fought for women's inclusion in big wave surf contests and, with three other professional women surfers, for pay equity in the sport, too. They won on both fronts, securing equal pay for women across the World Surf League and an invitation to the famed big wave contest at Mavericks. (Women have yet to compete at Mavericks; the event was canceled due to conditions the year they won access and hasn't been held since.)
"As one of few women in the culture, I always felt like I was in the boys' locker room," Valenti said. "But I kept going and didn't let it stop me. Turns out that's the best action I could have taken — to not be intimidated and just keep going out there. It's amazing what people are capable of when they believe in themselves and are brought up believing they are the gold standard and they can do anything."
Valenti was brought up in Dana Point, California. She caught her first wave at Doheny Beach, at age 7, and was soon obsessed. Surfing pro events by age 15, she watched many of her competitors go into a home-school program so they could focus solely on surfing. Her parents weren't having it.
"My first year at UCSB I was kind of bitter about being at college; I just wanted to surf," said Valenti, who won nationals three times with the UCSB Surf Team, which she captained her senior year. "But I leaned into it and I fell in love with UC Santa Barbara. I made so many great friends and learned so much. I'm so grateful my parents were so adamant about me getting a good education."
It certainly paid off.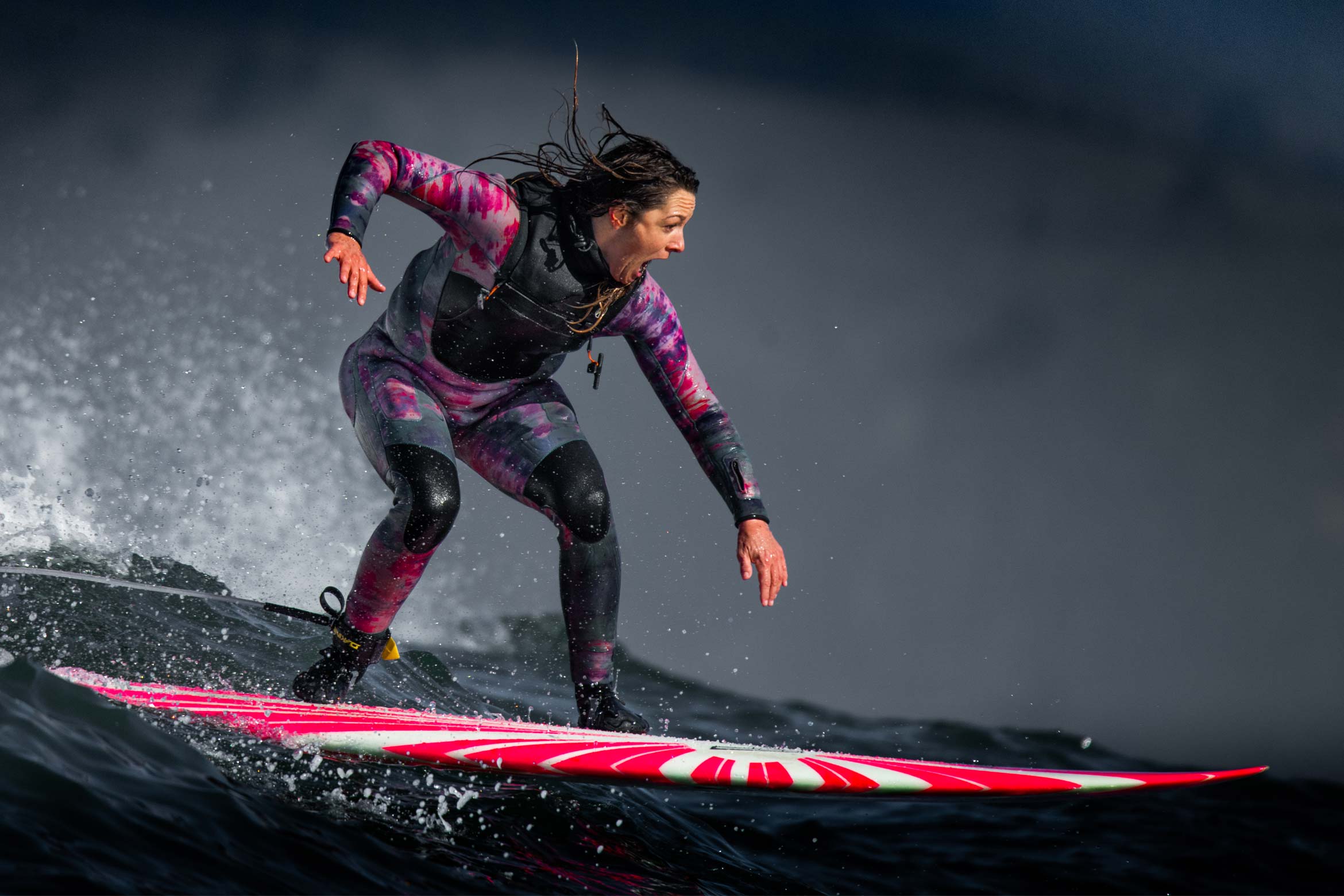 Valenti earned her degree in global studies with an emphasis in socioeconomics; she minored in sports management. Pieces of a puzzle, along with her passion for surfing, that she's using to fuel a new fight: pay equity for all athletes in outdoor sports — climbing, mountain biking, skiing, snowboarding, surfing — where the economics are driven by big brands.
"There is a movement for change not just for women and underrepresented groups, but for everyone in these sports; there is lot of fire around it," she said. "Winning for me is working hard. It's trying my best; it's enjoying it; it's falling down a million times and getting back up and continuing to ride a better wave every day, whether it's on the land or in the water."