The New Normal Education
Teaching Through the Pandemic 
When COVID-19 stay-at-home orders emptied the nation's classrooms, instructors from pre-K through Ph.D. programs launched Zoom rooms and summoned their creative juices to find innovative ways of reaching — and teaching — their students.
And with the return of in-person instruction, some of the teaching methods designed for online learning — and some valuable philosophies — have made their way into the classroom.
This school year, "we have a new appreciation for in-person teaching, learning and social connections," notes Susan (Chin-Young Chang '95, MA '96) Salcido, Santa Barbara County Superintendent of Schools, "and a deeper understanding of the impacts of accessing and using technology for learning and interacting." Teachers and administrators are increasingly flexible about every component of delivering education, recognizing that conditions and environments may change at a moment's notice.
Aria Bauman '15, a science teacher at San Lorenzo Valley High School in Felton, knows that firsthand. He used Flipgrid, a software tool that enables students to produce videos to demonstrate their lab results, model scientific phenomena and show their mastery of concepts. It's now part of his students' in-person experience.
Megan Reed '17, a teacher at Harding University Partnership School in Santa Barbara, developed what she calls "reflective conversations" so her sixth grade students could ask tough questions on topics outside the bounds of their virtual classroom, form opinions and find their own individual voices. "When kids were in remote learning, many were spending a lot of time online," she notes. "Kids are so curious about the world around them, and social media has given them access to mass quantities of news, trends and information." They needed a place to process it all. They still do. When the pandemic hit, universities entered new teaching territory as well. UC Santa Barbara instructors had to connect with their students virtually — sometimes across time zones and even across date lines — and they found novel ways to do it.
After Helen Morales's cats photo-bombed the lectures she recorded for her class of more than 700 Greek mythology students, the Argyropoulos Professor of Hellenic Studies made them honorary teaching assistants. And Kathy Foltz, a professor of molecular, cellular and developmental biology, set up online forums where her students could share tips for remote learning.
Many instructors altered the way they presented course material, choosing to post short lectures and videos and encourage small group projects instead of more traditional teaching and assessment methods. Chris Evelyn, a lecturer in ecology, evolution and marine biology who used to grade primarily on one midterm and one final, shifted the focus of his class to be on students working together to understand concepts and answer questions, and then evaluating their own work and that of their peers.
And as the university welcomes students back to campus and resumes in-person instruction, some of those newfound practices will carry over, no matter the format.
"We know that learning is a social activity," says Linda Adler-Kassner, assistant dean of undergraduate education and director of UC Santa Barbara's Center for Innovative Teaching, Research and Learning. "Faculty have learned a great deal about how to create opportunities for collaboration, whether asynchronous or synchronous, in classes of all sizes."
But as teachers like Bauman and Reed have learned, in the age of COVID their work involves a lot more than strict education. Helping their students navigate the challenges of the pandemic, from face masks to quarantine to COVID testing, has become part of their job descriptions.
"It's really challenging to be online for over a year of academic instruction," says Reed. "The last 'normal' year my students had was in third grade. Those years are formative for social, emotional and intellectual maturity." She supports her students by establishing routines, providing constant encouragement and working brain breaks into the school day to counter fatigue and stress. "And also, by acknowledging that this is hard," she says. "I think it helps to hear that."
For Bauman's high school students, the pandemic — and now the return to a new version of in-person instruction — has taken an emotional and mental health toll. "I have more students than ever having to deal with severe anxiety and depression," he notes. "There is also learning loss in all areas." He is particularly concerned about the impact an academic year away from the classroom has had on social behavior and school culture.
Still, despite all the many challenges, the return to the classroom has been a happy event. "I am thrilled to be back in my lab classroom," says Bauman. "No one goes into education because we want to sit in a room alone all day interacting with a screen." The enthusiasm his students have shown at being back at school is a welcome surprise. "
Some really take the time now to express gratitude for things that we all took for granted previously, and it is beautiful to watch them appreciate the little things," he says.
Reed, too, has been struck by her students' resilience. "I know we have had days where we struggle," she says, "but I've been pleasantly surprised by the amount of joy that fills my classroom. These kids show up, work hard, laugh, sometimes cry, and persevere. It's such an honor to be their teacher."
The New Normal Work
No more business as usual
If there's one area the pandemic hit universally, it's the workforce. Everyone, regardless of their employment status, was impacted to some degree or another — and some a lot more significantly than others.
Now, as workplaces across all sectors reopen, the term "business as usual" has a new and very different meaning.
But according to Nelson Lichtenstein, distinguished professor of history and director of UC Santa Barbara's Center for the Study of Work, Labor and Democracy, the work-life changes that have occurred as a result of the pandemic cannot be separated from the government response. And thus far those programs and policies have greatly enhanced support for millions of working families.
"Real wages are going up," Lichtenstein declares. "Let me repeat, wages are rising faster for the bottom half of the working class, and especially for so-called frontline workers." This includes virtually everyone in food service, retail, transport and even gig delivery work.
What's behind the wage increase? A labor shortage resulting from the unwillingness and/or fear many workers have had about returning to frontline, low-paying jobs, and the financial resources they have received that enable them to stay out of the workforce, especially with schools and childcare remaining problematic. "
The $15-per-hour demand put forth by the labor movement has become almost the norm in many heretofore low-wage workplaces," he says. "This labor shortage has also given workers more power, not in terms of unionism or strikes, but in a more subtle fashion — schedules that workers like, more rapid promotions for those in their jobs, and, of course, the ability to get work when they choose it."
The Department of Labor's Bureau of Labor Statistics puts the labor shortage into numbers: Job openings in September 2021 totaled 10.4 million; new hires were at 6.5 million; and the number of workers quitting their jobs was at 4.4 million.
Similarly, an October report from the Department of Labor shows unemployment at 4.6% — 7.4 million people — with notable job gains showing up in leisure and hospitality, professional and business services, manufacturing and warehousing. This is down, by the way, from a pandemic high of 14.8% in April 2020.
For decades, conventional wisdom held that requiring people to work in large, congregate office settings was vital in terms of management and productivity, Lichtenstein explains. But the experience with remote work during the pandemic has demonstrated otherwise. "It does seem likely that remote work will become much more prevalent in the next few years," he says. "That will have many benefits for workers, but some costs, too." If most white-collar workers, and not just highly paid professionals, are required to be on-site only one or two days a week, that signals a significant shift in work routines. Among other benefits, Lichtenstein notes, this pandemic-initiated model would eliminate the waste of commute time, wear and tear on cars, parking and other work-related expenses. "
On the other hand, there are some real downsides to remote work," he says. "There's the computer and related expenses, electricity, an extra room, and there's the erosion of the defined workday and the psychic isolation that generate burnout. These costs are thrown onto the worker."
Although some people can pick up and move hundreds of miles away in search of cheap housing, for most doing hybrid remote/office work, Lichtenstein argues, relocating is not an option. "But they do need another room in the house, which is why single-family homes in the inner suburbs are now in such demand."
Naturally, as more people move to some kind of remote work arrangement, the demand for office space will change. Businesses and companies will evolve, says Ted Cuthbert '84, a commercial real estate specialist in the San Diego area for more than 30 years. "I don't think they'll get rid of offices completely, but will downsize or reconfigure spaces depending on the location and cost involved." In other words, they'll find their own new normal.
The New Normal Mental Health
The importance of resilience in tough times
In the year (or two) of breathing dangerously, our mental health has been tested in ways most of us never could have imagined. Isolation. Separation. Economic insecurity. Fear for the health and well-being of our loved ones — every single one of them — and for ourselves.
Our lives have been upended by the sheer magnitude of the pandemic itself.
Indeed, a recent study by the Centers for Disease Control and Prevention found that of the nearly 800,000 adults who completed an online survey about their mental health, 42% reported symptoms of anxiety or depression.
Smaranda Lawrie MA '20, Ph.D. '21 understands that. As a graduate student and teaching assistant in the Department of Psychological and Brain Sciences, she witnessed it firsthand as the COVID-19 pandemic began turning her students' lives upside down. So, Lawrie helped organize the UCSB Resilience Summit and Certificate Program, a series of 13 lectures on "positive psychology" designed to instill the skills for maintaining good mental health and optimism. The lectures drew nearly 1,000 participants, who explored topics such as applying Joseph Campbell's "The Hero's Journey" to finding one's own inner hero, learning how to spot the silver lining around negative events, and understanding the how and why of mindful attention.
Lawrie, who is now on the faculty of Providence College in Rhode Island, says it's important to remember that your mental health is not fixed or trapped by circumstance. "One of the things I really appreciated about the summit is that a lot of the people, myself included, talked a lot about change and how change is possible."
Previously, it was assumed that brain flexibility was limited to younger people, and any change that occurred in later years was only negative, like dementia. "Now, all this research is starting to show that's not true," Lawrie says. "Change is possible throughout the entire lifetime. And a lot of that is our decision. It's our choice. So, there are things we can do and things we shouldn't do that help us live better." Find what works for you and stick with it.
The Power of Bringing Mental Health into the Conversation
When Simone Biles pulled out of events at the Tokyo Olympics this past summer citing mental health concerns, she said she expected to be lambasted by critics. And while some people did call America's greatest gymnast a "choker" and worse, something more profound happened: She was widely praised for having the courage to acknowledge she was struggling and needed to step away from competition. Like Naomi Osaka, who spoke about the emotional difficulties of being a tennis star, Biles did what few athletes and celebrities have done — she brought mental health out of the shadows.
Robin Nabi, a professor in the Department of Communication who has written extensively about the effects of social interactions on mental health, says the positive response to Biles and Osaka stemmed largely from our sense that we know and identify with them. Their struggles aren't an abstraction.
"If it's someone who's familiar to us, or someone we think we're similar to, then we think, 'Hey, if she's struggling and is willing to talk about it, then maybe I can, too. Maybe I can take a break and step back. Maybe I should try to find someone who can help me work through these issues,'" says Nabi.
Another benefit of these celebrity acknowledgements is that they can build into movements, she notes. #MeToo, with its spotlight on sexual abuse, is one example.
"There's something about that particular time where all of a sudden people are willing to share their stories and then it's everywhere," Nabi says.
"And then your social change becomes possible. It's not necessarily any one particular story, but the collection of stories." That's true for struggles related to the pandemic as well. The more people share their genuine feelings of angst, not only will they likely find support, but they contribute to the sense that this is a broader mental health issue that needs to be addressed as a more universal societal issue.
THE VALUE OF COMMUNITY CONNECTIONS
There's an excellent chance you know someone — yourself, even — struggling with their mental health as the pandemic continues. The effects of COVID-19 on our collective psyches won't be going away anytime soon, so it's natural to ask, 'What can you do about it?'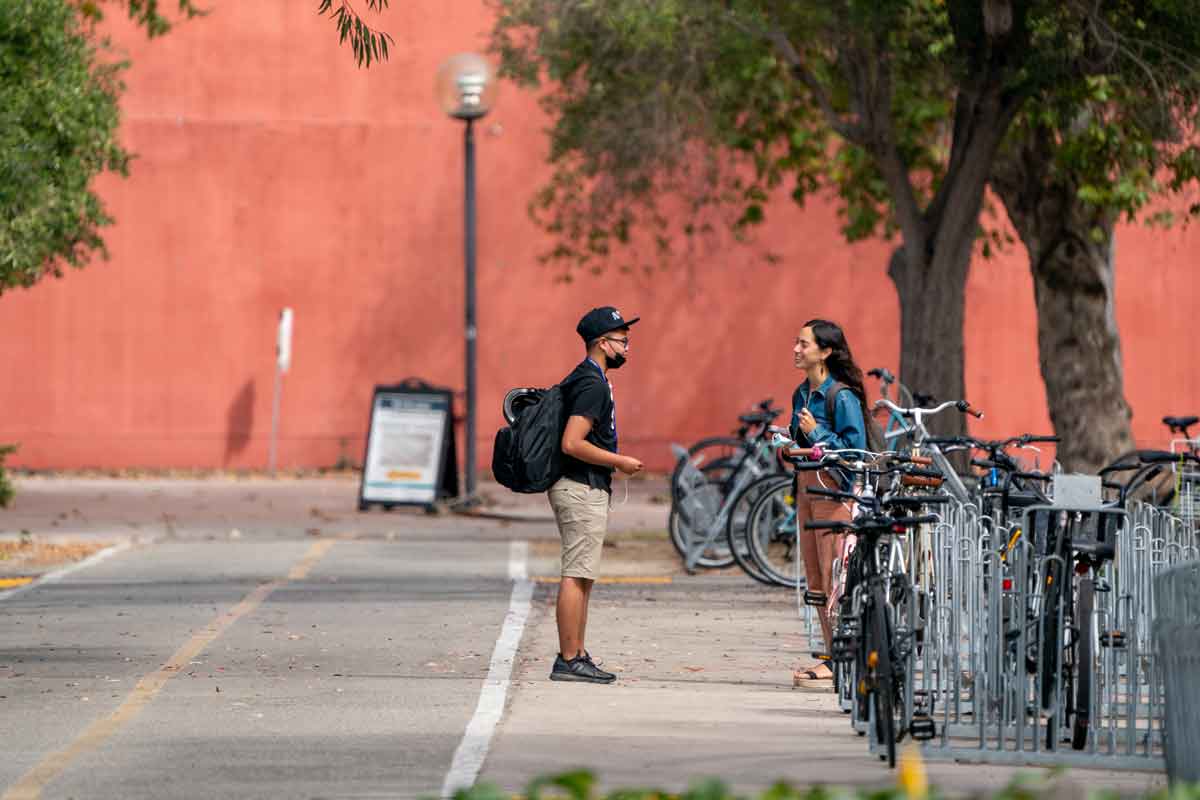 Maryam Kia-Keating, a professor in the Department of Counseling, Clinical and School Psychology in the Gevirtz Graduate School of Education, has some excellent suggestions.
• Stay connected to friends and family. Social support, she says, is one of the biggest predictors of psychological well-being, particularly in times of adversity, stress and trauma. It might take some creativity — ask someone to go for a walk with you or connect via FaceTime, for example — but connecting with others is vital.
• Disconnect from media. It's normal to turn to media for information in tough times, but much of what we see brings stress, fear and anxiety, Kia-Keating says. "And we know from a lot of research that overdosing on that kind of media is actually very negative for your mental health." Focus on quality over quantity.
• Stay balanced in your activities. "Make sure that you're involved in activities that connect you to others as well as just bring you some pleasure and joy. Activities that give you a sense of purpose and meaning are important for your mental health," Kia Keating says. Helping others can be very therapeutic.
• Ask for help. "Make sure that you're not trying to do it all alone," Kia-Keating says. "We're all going through the same pandemic, but the experience can be quite different." Reach out for help when you need it. Most psychologists offer tele-health appointments. "You could also reach out to your informal network, and hopefully that will continue to nurture those social support systems that you've created."
The New Normal Environment
From Garden to Table — Creating Our Own Food Supply Chains
Electrical engineer Sean McCotter '18, MS '19 was growing peppers in his yard long before COVID-19 hit. But with the pandemic — and more time at home — his garden has become a veritable cornucopia with mushrooms, squash, peas and other local and native food-bearing plants.
Like McCotter, many people have found solace in Mother Earth over the past year and a half, planting vegetable gardens that both augment their food stores and provide much-needed stress relief. Though produce departments are fully stocked, the grow-it-yourself movement continues.
"I find it very satisfying to work in the garden," says McCotter, who extols the effort as an easy way to spend more time outside and away from screens. "It's nice to be able to look out after an hour of work and see a visible difference. It makes the harvested food special to eat." McCotter also is cultivating a "very successful" passion fruit vine and a small lemon tree. "We certainly expect to continue growing all of them, rotating some of the shorter turnaround crops in the different seasons."
Daniela Soleri, a research scientist in the geography department, isn't surprised. "While many see the pandemic gardening response as a boon for self-sufficiency-oriented food systems, I think something else more interesting and realistic became evident," says the co-author of Food Gardens for a Changing World. "That is our interdependence, and the value of community-based, prosocial institutions that make it easier to organize to help each other."
According to Soleri, the demand for garden vegetable seed grew tremendously with the pandemic, and many seed companies were caught unprepared. One of the most interesting occurrences, she notes, was the nimble pivot by some community-based seed groups, such as seed libraries, from conducting long-term research on local seed adaptation and access to quickly providing emergency planting seed for groups and gardeners especially in need. That they were already building social institutions based on values such as equity, participation, open access and environmental care enabled their quick and effective response, she notes. Those institutions became stronger in the crisis.
In a new research paper, Soleri and her colleagues describe how thousands of gardens were supplied with free seed and also that people figured out how to work together for the greater good. "In a highly inequitable society like ours, there is a growing appreciation for a pro-social mutual aid approach to gardens and other forms of crisis response," she says.
Food gardens possess some unique attributes in terms of scale and accessibility that make them well-positioned to adapt to biophysical and social changes due to the pandemic as well as to the climate crisis. "However, this adaptation may be enhanced when there is a thoughtful, deliberate social process and practice that prioritizes social equity and environmental stewardship and resilience," Soleri explains. "This pandemic is offering some early evidence of that."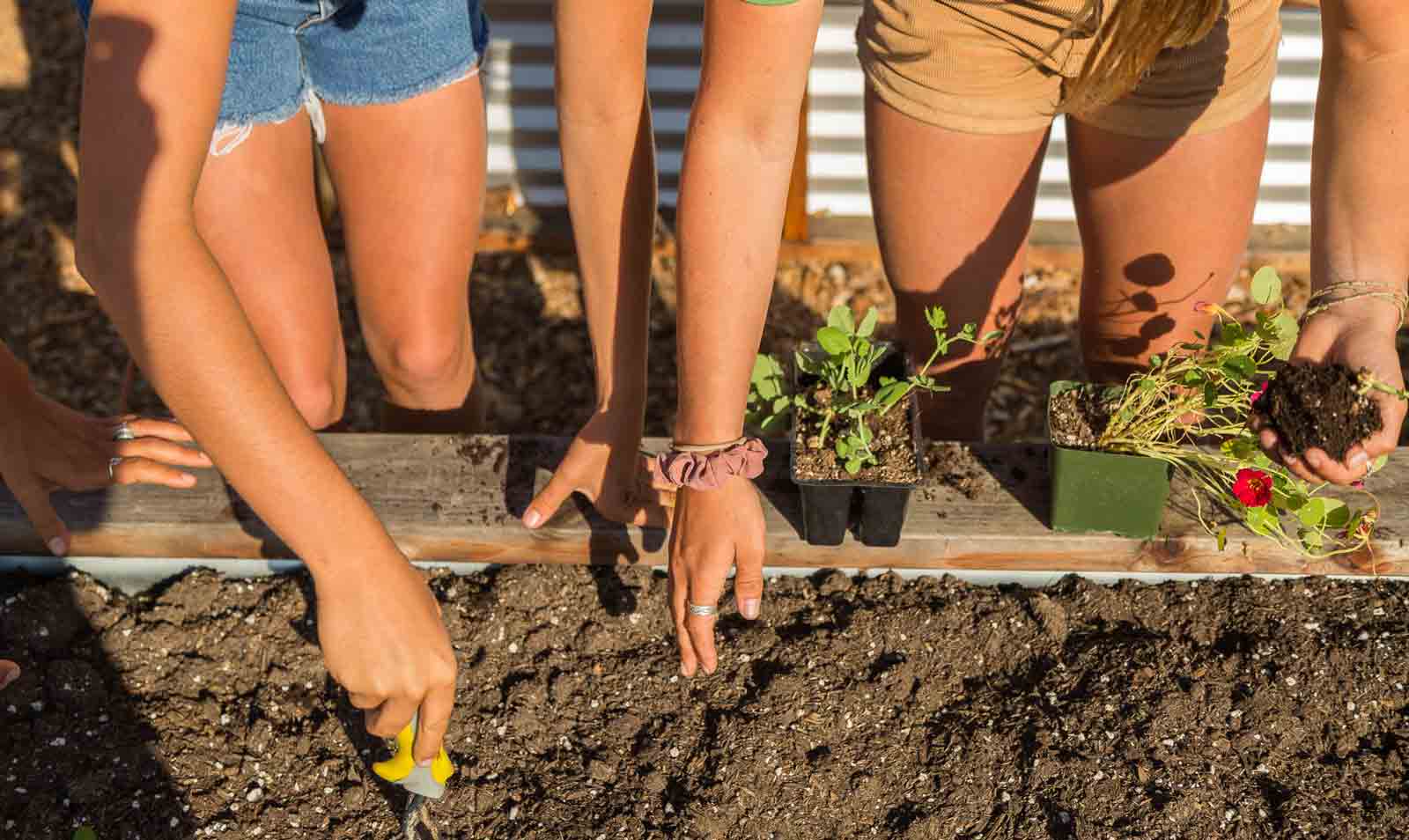 At UC Santa Barbara, the Edible Campus Program's Student Farm supplies healthy produce to the Associated Students Food Bank. Since its inception, Edible Campus, a multifaceted food sustainability initiative, has been the beneficiary of partnership and support from UC Santa Barbara alumni Jack Johnson '97, and his wife, Kim Johnson '97, through their Johnson Ohana Foundation. During the peak of the pandemic, student interns managed the gardens, working diligently to keep them open. The farm became a place where students were fed — and educated. All food grown and harvested is distributed through the A.S. Food Bank and the Miramar Food Pantry.
"The pandemic taught us a lot about creativity and trying to invent things," says Katie Maynard '05, UC Santa Barbara Sustainability Officer. "Our goal was always to stay in touch with the community to figure out their food needs and adapt to that."
The New Normal Economy
Bottlenecks in Supply and Demand
The COVID-19 pandemic wrought havoc on the economy, and the long, bumpy road to recovery is not without its twists, turns and detours.
But what distinguishes the current situation from previous experience, according to Professor Emeritus Benjamin Cohen, an expert in international political economy, is the fact that it's due not to inadequate aggregate demand — the usual culprit — but rather to supply bottlenecks.
"Back in April my dishwasher broke down, but when I tried to buy a replacement, I was told not to expect delivery before October," he notes as an example. "And just last week I got a call that delivery will be further delayed until January."
For decades, firms have relied on extensive networks of suppliers, many of them offshore, to support strategies of "just-in-time" inventory management. "Now they realize how vulnerable they are to the sudden emergence of bottlenecks that can strangle production or stall delivery of needed items," Cohen says. See, for example, what has happened to vehicle production — both cars and trucks — because of a sudden shortage of computer chips. Many corporations can be expected to shorten their supply chains and to "reshore," bringing much of their offshore production back to the U.S. where it is less vulnerable to interruptions.
"The changes being created by the pandemic are 'structural' in the sense that they involve sustained changes of behavior by consumers and producers alike," he says. "Structural adjustments take time — time to invest in new capital equipment and time for workers to acquire needed new skills. But the good news is that the adjustments are coming."
Cohen says that while he doesn't expect an economic recession, he has some concerns about the stock market. "Asset values have gotten way out ahead of reasonable profit expectations, and that includes not just stocks, but also real estate and the new-fangled cryptocurrencies."
He worries that a "correction" is overdue in the housing market as well as in equities. Asset prices could drop by as much as 10 to 20%, he warns, adding that it could be triggered by the Federal Reserve when it finally begins to cut back on its support of the bond market and interest rates start to rise.
For the moment, Cohen says, the challenge is not recession but inflation. Spending pressures are pushing prices up, though the rise in prices has more to do with bottlenecks in the supply chain than with excessive demand. While at one point he expected the rate of inflation to taper off quite quickly — a matter of months, not years" — now it's beginning to look more sustained. "Bottlenecks," he notes, "have proved stickier then most of us had anticipated."
The New Normal Student Voices
Anticipating the New Normal
UC Santa Barbara is once again abuzz with students, some returning to the campus they love and others just beginning their Gaucho journey. We asked a few to reflect on their pandemic experiences and their hopes for the new normal.
"Persistence, dedication, self-determination — it all has played a big, really a huge, significant role while just working through the pandemic and just grinding it out and just making sure as students, we stay on top of our academics."
— Wayne Johnson, junior
"It feels a little different and new because I'm not used to seeing so many people on campus right now. I love seeing all the people and I love seeing all the new faces. I hope to make a lot of new friends this year."
— Brieonni Johnson, junior
"The first day back on campus, experiencing in-person classes again was surreal. I felt a range of emotions from happiness, excitement, and most of all, I was grateful. Being back to in-person learning made me realize how much I appreciate my peers, professors and university's campus." — Angelina Deleon, junior
One of the pandemic's silver linings is "probably just being able to focus on myself, to learn new hobbies, being able to just be content being by myself and learning how to be self confident."
— Brooke Cleary, freshman
"Just being able to see my professors has been crazy. Some I am meeting for the first time, and others I have taken from online but it is amazing to be in-person with them." — Riley Haley, sophomore