Newsmakers and Milestones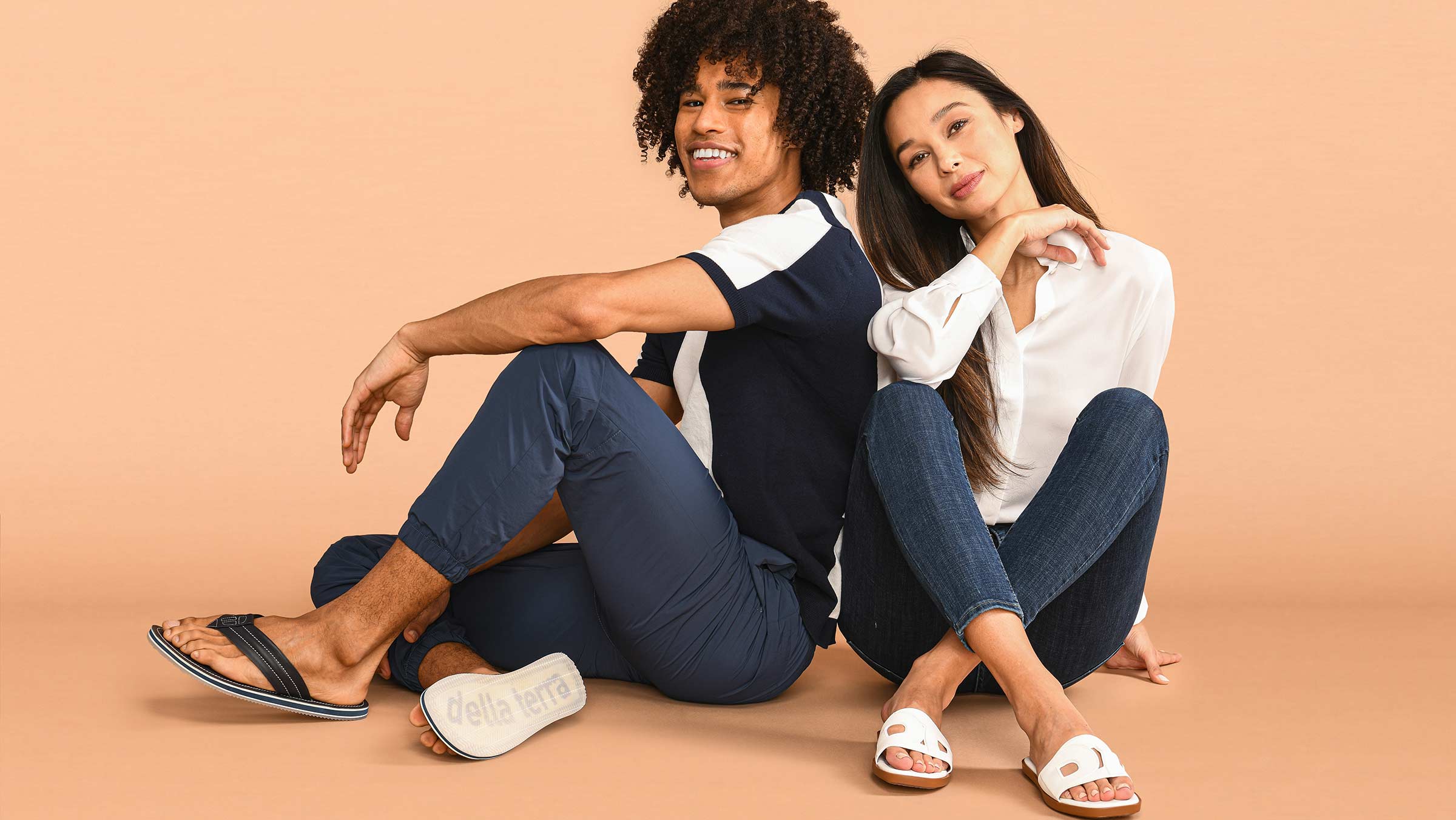 Shoe Designs That Step Up the Sustainability
Environmentally friendly practices and fashion come together at della terra, a new footwear brand from Designer Emily Landsman '05. Prior to its launch in June, the new brand hit the ground running, winning four Global Footwear Awards for Landsman's initial designs using vegan and recycled materials to create a PETA certified line of shoes that don't sacrifice style or comfort.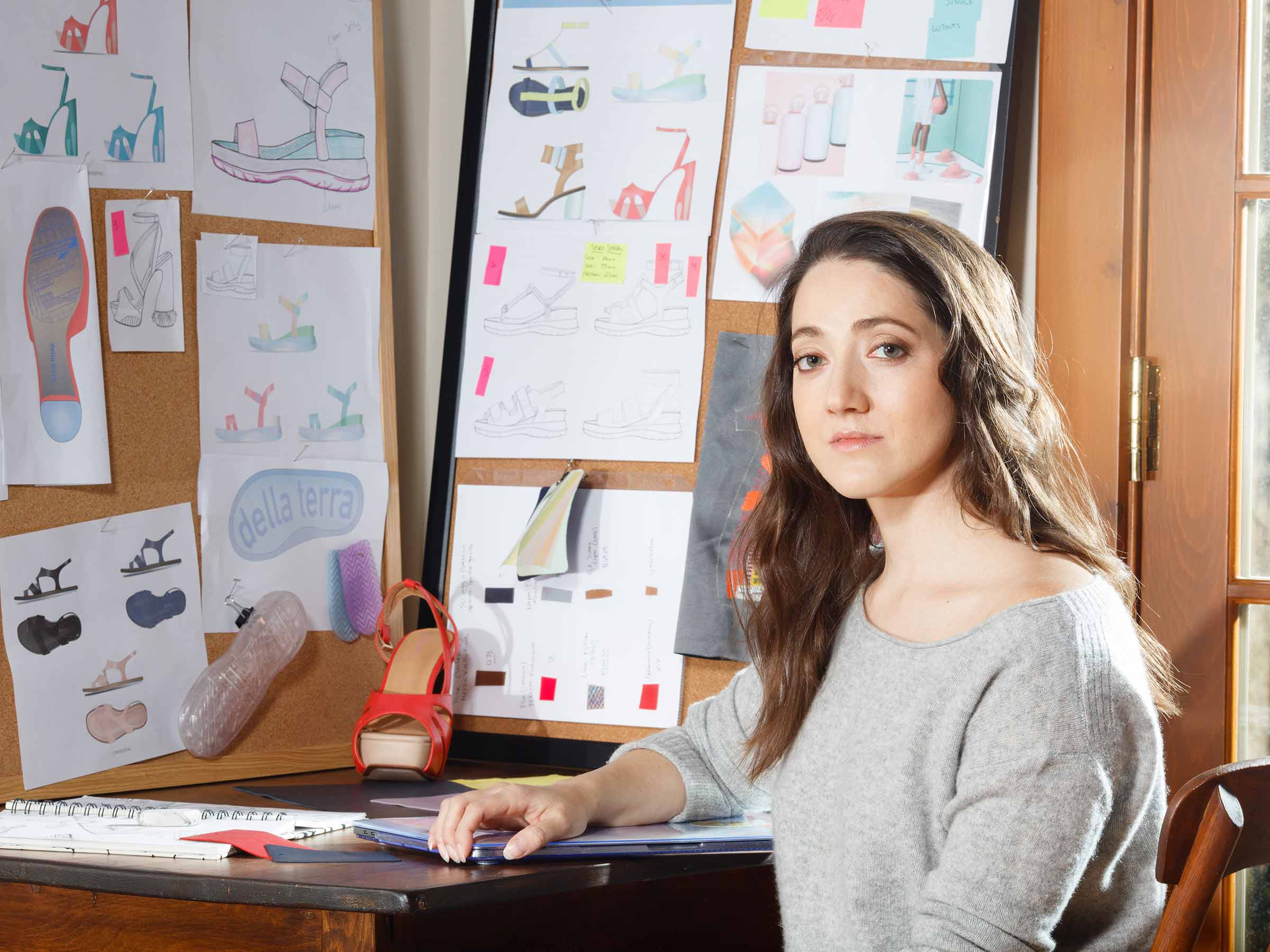 "My time in the art studio program at UC Santa Barbara had a huge impact on my career as an eco-footwear designer, especially Kip Fulbeck's mentorship that allowed me the opportunity to explore the intersection between art, fashion and the digital world. It was Fulbeck's teachings that ensured we all examined our position in the business and art landscape, bringing awareness of identity politics to the forefront of my mind," says Landsman, who is the founder and CEO of della terra.
 
"A lot of my inspiration also comes from the UCSB's surrounding areas and amazing backdrops, which granted me the chance to explore a design thinking process that I have continued to apply to each and every project I have worked on since my time at the school," Landsman says.  "While I spent a large chunk of my career in major cities like New York and Boston, Santa Barbara's landscape has continued to be a constant presence in my work. della terra translates to 'of the land' and UCSB's surrounding area is a very large part of that inspiration behind the name. Being able to merge this while contributing positively to the planet will continue to always be my initiative as a designer and business owner.
Bringing Diverse Perspectives to the White House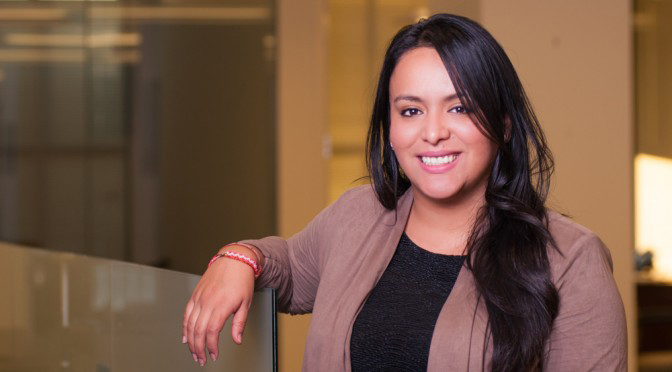 Nathaly (Arriola '10) Maurice joined the White House Office of Public Engagement (OPE) as Special Assistant to the President and Director for Partnerships this spring. OPE works at the local, state, and national levels to ensure community leaders, diverse perspectives, and new voices all have the opportunity to inform the work of the President. The team is tasked with creating and maintaining a two-way dialogue between the administration and communities across the nation to ensure that voices are heard and that concerns can be translated into action across the administration. Through outreach, communication, public events, and official announcements from the administration and the various departments of the Executive Office of the President, the Office of Public Engagement removes obstacles and barriers and creates opportunities to improve public awareness and involvement in the work of the Biden-Harris administration.
Maurice previously worked for the Executive Office of the President in the Obama administration, U.S. Office of Personnel Management, and the Senate. A native of Peru, she earned her bachelor's degree in political science with an emphasis in international relations and Latin American studies. She participated in UC Santa Barbara Technology Management Program for four years and was a member of the Lambda Sigma Gamma sorority. Maurice is a mentor for The Puente Project that helps young Latinas prepare for college. She attributes much of her success to her experience at UC Santa Barbara and participation in a UCDC internship in the office of a member of Congress.
Engineering for a Better Future
Dreams really do come true. At least that's the case for Tanya Das M.S. '13, Ph.D. '17, the new chief of staff in the Office of Science, a senior position in the Department of Energy (DOE). "This position is a dream job," says Das, who was a member of associate professor Jon Schuller's research group at UC Santa Barbara, where she earned her Ph.D. in electrical and computer engineering studying the effects of light engineering on multipolar resonances in nanoparticles. "It is an incredible honor to be appointed to advance climate change and racial equity policies."
With a $7 billion budget, the Office of Science supports research in the physical sciences, stewards ten of the DOE's 17 national laboratories, and supports workforce development and training programs for teachers and students in the science, technology, engineering and mathematics (STEM) fields. Das says she developed the essential skills she needed to succeed in Washington both inside and outside of the research lab at UC Santa Barbara. "My work in the Schuller Lab helped me gain a solid understanding of the research process and federal funding mechanisms for our nation's scientific research enterprise."
For two years, she also was a program evaluator at the university's Center for Science and Engineering Partnerships (CSEP), which focuses on improving the educational and career outcomes of current and future scientists and engineers.
"It was my work with CSEP that helped me realize how I could apply my scientific skills to policy," says Das. "CSEP programs and staff are an underappreciated jewel of UCSB and have helped countless UCSB graduates like myself develop the skills they need to be successful professionals — essential skills that can't be learned from just doing research. Without the experience and mentoring that I gained with CSEP, I would not be on the career path I'm on today."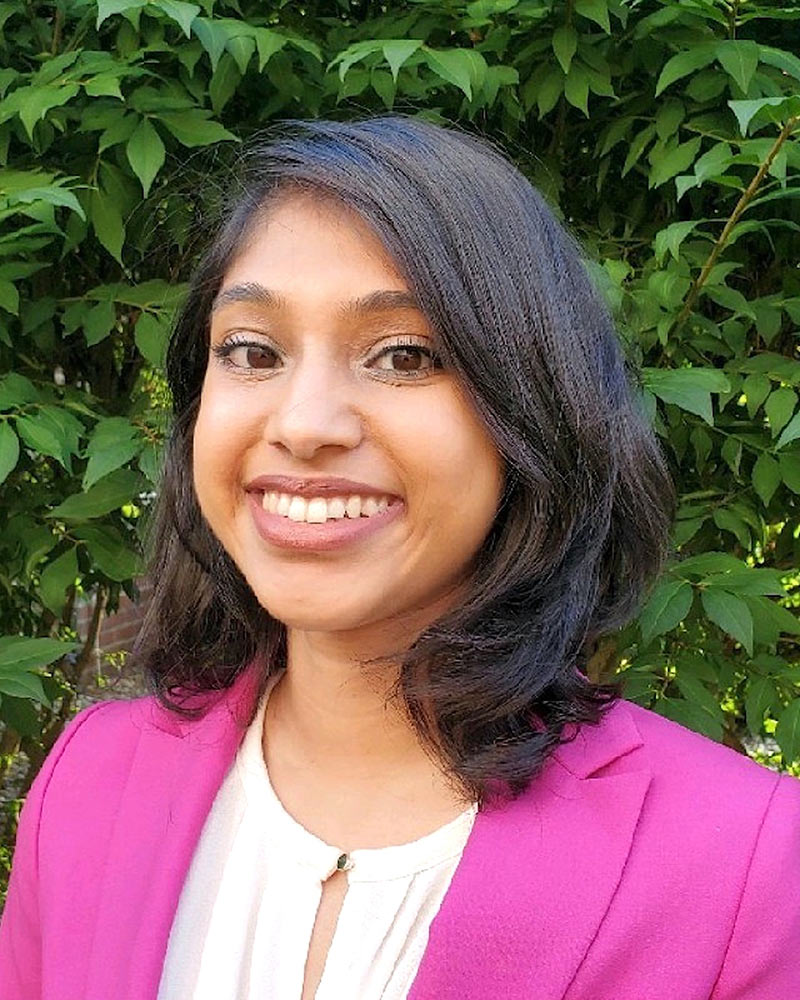 Reaching for the Stars Onscreen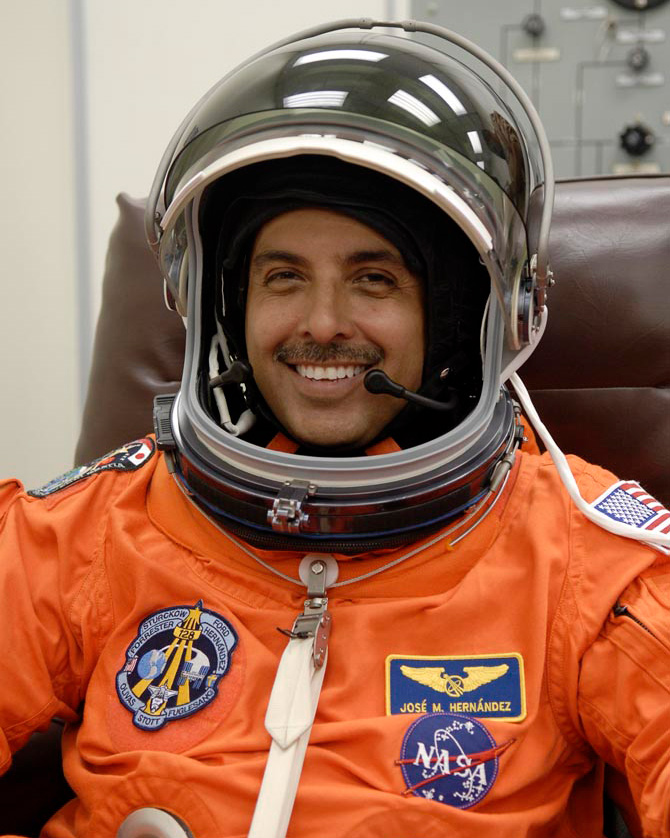 Former NASA astronaut José Hernández MA '86 and his inspirational story will be the subject of a Netflix original movie set to be released in 2022. The working title of the film is A Million Miles Away.
Hernández, a graduate of UC Santa Barbara's electrical and computer engineering department, spent 14 days in space in 2009 as a flight engineer on board STS-128, a NASA Space Shuttle mission to the International Space Station. While in orbit, he was the first person to send a tweet in Spanish from space.
"The film shows my life as a migrant farmer who went from working in the fields with his parents to becoming an astronaut," says Hernández, who describes his nomadic childhood of moving to various locations throughout California and Mexico each year with his family. "I think this film is going to inspire a lot of people, not just kids, to believe that anything is possible if you put your mind to it."
Hernández was turned down 11 times by NASA's astronaut program, finally getting accepted on his 12th attempt in 2004. Receiving a Graduate Engineering Minority Fellowship while a student at UC Santa Barbara was key to his success, he recalls. It meant he didn't have to hold down a job to support his academic endeavors — a first for him. "I could focus solely on my studies and work with the great professors, like Sanjit Mitra in digital signal processing," says Hernández, whose daughter Marisol Hernández graduated from UCSB in 2020 with a bachelor's degree in statistics and data science.
"I am certain that without that training from UCSB, there is no way I would have become an astronaut," says Hernández, who currently serves as the president and CEO of Tierra Luna Engineering, LLC. He will have the opportunity to bring his decades of experience in the sciences to the university in a new role as well. Gov. Gavin Newsom recently appointed Hernández to a 12-year term on the University of California Board of Regents.
Book Buzz
Don Lake '65, a member of the first engineering class at UC Santa Barbara, has released a travel book, One Lap Around San Diego Bay. Fearless Talent Choices That Can Make or Break Your Business is the newest title by Dave Forman '66, a former member of the board of directors of the UCSB Alumni Association. Steven James Bartlett, MA '68 (who received his Ph.D. from the Université de Paris), published a new philosophical treatise, Critique of Impure Reason: Horizons of Possibility and Meaning.
Letters between her uncle and his wife are the inspiration behind the new book Darling: Love Letters from World War II, by Peggy O'Toole Lamb '72, MA '87. Stanley Moss '72, a former member of the UCSB Alumni Association board of directors and past president of the New York alumni chapter, has published Arborea, a new work of fiction that takes place at an ultra-modern resort in the California redwoods. Victor Geraci, Ph.D. '97, whose doctoral thesis produced the book Salud! The Rise of Santa Barbara's Wine Industry, recently published Wine By Design: Santa Barbara's Quest for Terroir.
Arvind Gupta '02, published Decoding the World: A Roadmap for the Questioner, which explores the use of clean-tech to solve some of the most vexing problems facing the world. Jesus Year, a self-help memoir by Ashley M. Ratcliff '06, chronicling her journey with multiple sclerosis, is an Amazon bestseller. Chloe Martinez, Ph.D. '13, currently the program coordinator of the Center for Writing and Public Discourse and a lecturer at Claremont McKenna College, has published Corner Shrine, a poetry chapbook.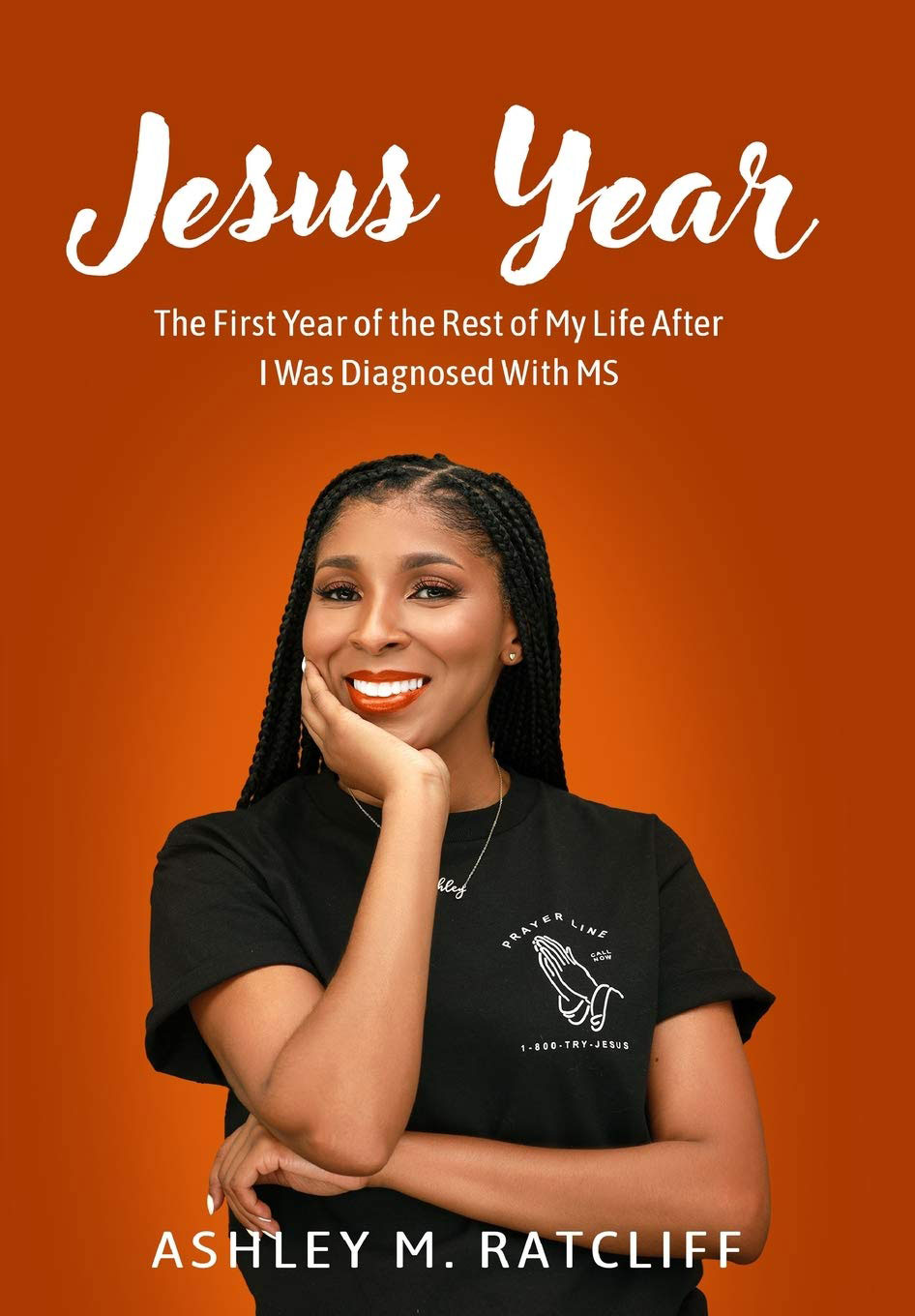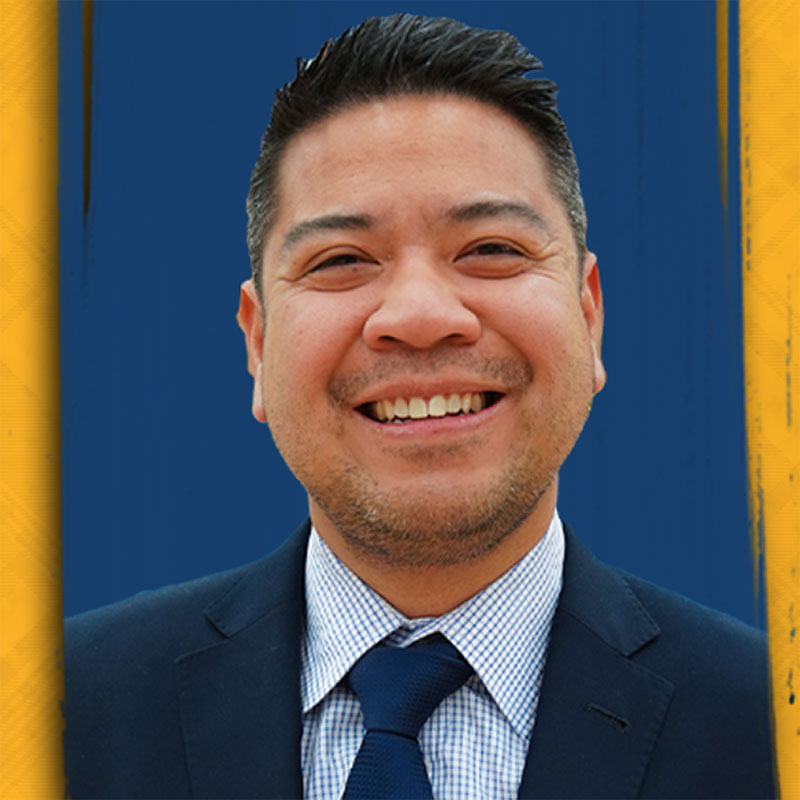 Athletic Accolades
Lin Loring '72 — the winningest women's tennis coach in NCAA Division 1 history — was inducted into the Intercollegiate Women's Tennis Hall of Fame. He coached women's tennis at UCSB after his graduation and then went on to coach for 30 years at the University of Indiana. Mike Magpayo '01, has been named head coach of the UC Riverside men's basketball team. Magpayo is the first NCAA Division 1 head coach of full Asian heritage.
Gaucho basketball star Orlando Johnson '12, has signed to play in Australia with the Brisbane Bullets of the National Basketball League. Johnson has played in the NBA (Indiana Pacers) and pro teams in Spain, the Philippines, China, Lebanon, Bosnia, Taiwan and Russia. Gabe Vincent '18 was a backup reserve for the Miami Heat in their recent NBA championship series against the Los Angeles Lakers. Vincent, the ninth all-time scoring leader for UCSB, is the second UCSB player to appear in the championship series. Brian Shaw '88 made the finals with the Orlando Magic and the Lakers.
Science Standouts
Joe Acaba '90 has been named by NASA to the team that will make the early Artemis Moon missions. NASA's goal is to put people on the moon by 2024 and Acaba, a NASA astronaut since 2004 who has logged 306 days in space on three different missions, joins a team of 18 astronauts that will be assigned the first missions. Dawn Wright, Ph.D. '94 is among the newly elected members of the American Academy of Arts & Science. She completed an interdisciplinary Ph.D. in physical geography and marine geology and is the chief scientist at the Environmental Systems Research Institute.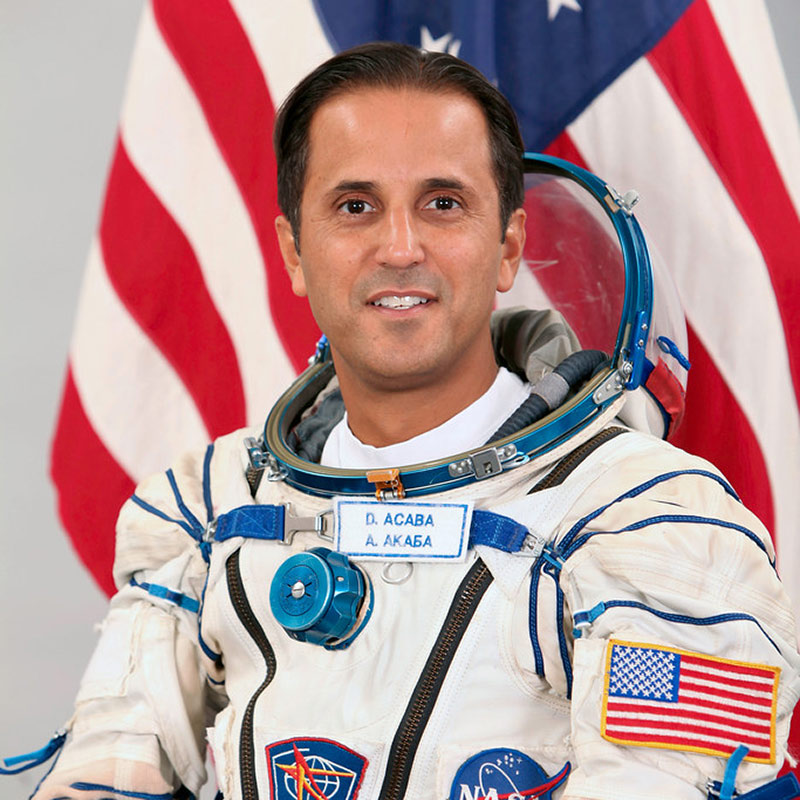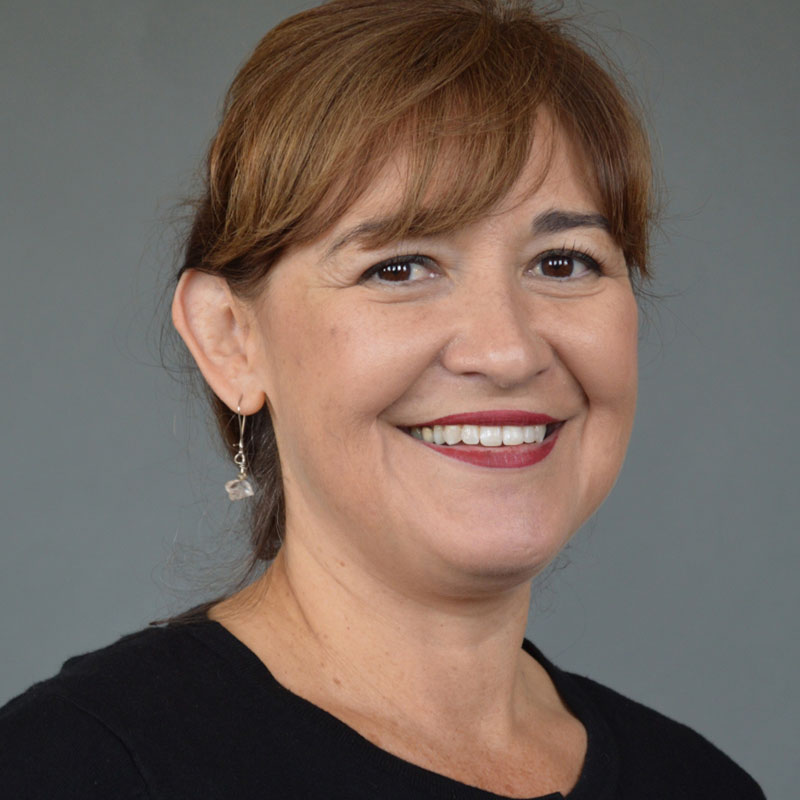 The Service Sector
Gregory Ruiz '80, a senior research scientist at the Smithsonian Environmental Research Center, was a finalist in the 2021 Samuel J. Heyman Service to America Medals, which "recognize the unsung heroes in our federal government who have made phenomenal contributions to the health, safety and prosperity of our country." Jeanette Morgan Shaw '89, a former member of the board of directors of the UCSB Alumni Association, has been elected to the Tigard City Council in Portland, Oregon. Partner and co-founder of Techolicy LLC, Shaw is also the senior director of Policy, Communications and Marketing for Forth, a nonprofit focused on smart transportation.
John Hinderaker '91 was confirmed by the U.S. Senate as the U.S. District Judge of Arizona. He is one of 94 federal district judges in the U.S. He previously served on the Pima County Superior Court in Arizona. Shawn Landres, MA '95, Ph.D. '13 is serving as the chair of the Santa Monica City Planning Commission. He is also a leader on the Los Angeles County Innovation Commission.
Sheila Hwang, MA '97, Ph.D. '08 was among 100 St. Louis-area educators to receive "Emerson's Excellence in Teaching Award." Hwang is a professor of English at Webster University in St. Louis. Steve Ortiz '04, President and CEO of the Santa Barbara United Way, has been honored by Hospice of Santa Barbara with its Philanthropy Award for his work during the COVID-19 crisis. Niki Sandoval, Ph.D. '07, a former member of the board of directors of the UCSB Alumni Association, has joined WestEd, a worldwide consulting firm that works toward improving educational outcomes for youth and adults.
Additional Stories
In Every Issue
---
On Campus
Short takes, lively stories and snapshot looks at the UC Santa Barbara campus and community open a window into our dynamic environment and diverse culture.
Alumni
Alumni profiles, news bites and insights both from and about the UC Santa Barbara Alumni Association foster a strong sense of connection and Gaucho pride.
Features